After Juventus dominated Manchester United at Old Trafford, the British Press were in autopsy mode.
The front of the Daily Telegraph sport section declares that the Red Devils were "out-thought, out-passed, out-classed".
Inside, the match report declares "the opposition reached a standard which this current United side might spend their lives trying in vain to reach" as "it felt like the team from Turin was the only one playing football for grown-ups".
The Guardian declared "there was a time when Old Trafford would lap up these nights", but "the side now managed by José Mourinho came up so short it must have been a chastening experience for the supporters".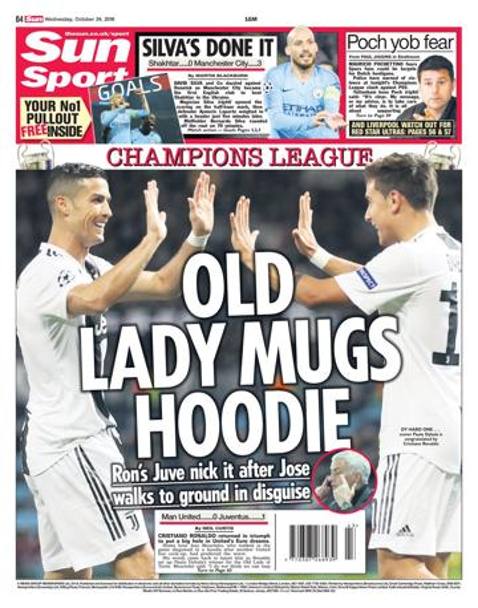 Tabloid The Sun went for a pun, referencing Jose Mourinho's disguised walk to the stadium and declaring "Old Lady robs hoodie". Continuing the theme, the match report states that Mourinho's players "could be accused of failing to show up" at all, after their delayed bus journey.
The Independent declared "Juventus were on another level to Manchester United" who put in "another troublingly passive display to go with the general pattern of this season".
The Daily Mail noted "this should be a meeting of elite clubs – United have the financial and commercial riches that Juve envy" but "in football terms, they are no longer equals, and the Italians were far superior technically".
The Times accused Mourinho of "betraying the club's traditions", summing up a perceived lack of excitement by saying "even the team bus slows on the way to Old Trafford now".
Henry Winter concludes "United were utterly outclassed. The scoreline was a travesty".
See the latest Serie A predictions and betting tips with Eurotips.co.uk